Terrorizer #218: we look back at the best of 2011 and who to watch in 2012, plus Lamb of God and Dominion 14

Get your copy of Terrorizer 218 here!
Terrorizer #218: Lamb Of God, reflections on 2011 and who to watch in 2012, is out now with our free CD Fear Candy 102!
We look back at the best of 2011, present you with our albums and artists of the year, and tell you who to look out for in 2012.
Lamb Of God frontman Randy Blythe talks about how music saved him from prison, how he's eaten rats and snakes, how he's cleaned up on turning 40. He tells Terrorizer why he doesn't give a fuck about Grammys, and why the Earth won't put up with humanity much longer.
We bring you an in-depth look at who to watch in 2012 featuring Behemoth, Saint Vitus, Neurosis, Asphyx, Cannibal Corpse, Baroness, Testament, Periphery and many, many more. We bring you run-downs of what's coming from the worlds of black, death, doom, thrash, power and heavy metal and hardcore. There's also a preview of the festivals coming next year.
We look back on an amazing year in 2011, with the results of the reader's poll in full, the 40 records we judged the best of 2011 and chat to the people who made 2011 kick ass, with contributions from Watain, Kvelertak, Suicide Silence, Machine Head, Devin Townsend, Arch Enemy and more.
In the studio with Paradise Lost and Samoth's The Wretched End, find out why Sven de Caluwe thinks humanity is a piece of shit and what Savage Messiah's Dave Silver gets up to when he's not thrashing like a maniac.
We test Morbid Angel frontman David Vincent's music knowledge in our Hard Of Hearing test, Rob Miller of Amebix puts together this month's mixtape, and we darkly recollect Autopsy's seminal 'Mental Funeral', select and dissect albums from Landmine Marathon, Lacuna Coil, Nekromantheon, Racebannon and Vektor, and report on Cathedral's last ever show, Dimmu Borgir's 'An Evening With' show and Texture's technical ecstasy.
This month's Dominion pays homage to Rammstein, reviews the year with Combichrist, Fields Of The Nephilim and Ministry, and brings you the visions of the future in Dominion Style.
All this and more from:
Will Haven
Down
Biohazard
Gojira
Gallows
Burzum
Kreator
Black Breath
Municipal Waste
Enforcer
Job For A Cowboy
Your Demise
Crippled Black Phoneix

Get your copy of Terrorizer 218 here!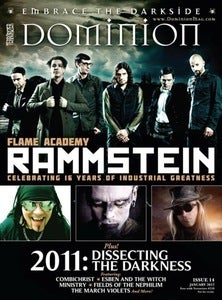 Terrorizer is also available in all digital formats too: