Dominion's Summer Survival Kit
Summer in the UK might be a hit and miss affair (so far a big miss this year) but it always pays to be prepared, especially if you're pale of pallor and tend to dress in layer-upon-layer of crushed velvet. So for those inclined to step out into what little sun there is (as well as those forced to by unavoidable circumstance) we decided a little internet trawl was in order to find a few items to get you through this wacky season we love to hate.
Manic Panic Vampire's Veil Pallor Protector Sunblock


Number one on everybody's list has to be sun block, of which Manic Panic do a goth friendly version. Keep your pastiness at blinding levels while everyone around you tries to look like a baked potato.
Demonia Platform Sandals


It's no secret that a lot of goth ladies like their big boots. But they're not always practical by the beach or pool. So Demonia have come up with some eye-catching platform sandals. Keep your feet cool and keep the height of your boots.
Spooky Sunglasses


Aside from the classic aviators or dark round-rimmed glasses that often attract taunts of "Oi, Ozzy" from passing builders, there's little out there to appeal to the Summering goth. But why not try these stylish coffin shaped sun specs instead?
Skully Bikini

Occasionally we all like to take a nice cooling dip in a body of water don't we? And if you have the figure for it, why not indulge in a skull patterned bikini? One of many goth-friendly swim suit options on the market these days.
Skully Board Shorts

And for the gents we have some skully board shorts as well.
If you are still paranoid about sun damage to you skin even with all that sun block on, why not take a stylish parasol with you on your daily constitutional to the local beer garden?
Umbrella (for him)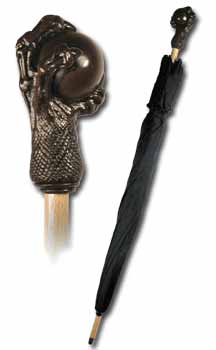 "All men are equal–all men, that is to say, who possess umbrellas," wrote E.M. Forster; and for the gentleman who would never dream of letting the constant threat of Summer rain spoil his day, there is the option of a very smart umbrella.
Corrective Makeup Base

Even if you have taken precautions you may still catch the sun hen you least expect it, but fear not! As any woman will tell you, a good colour correcting makeup base helps with the illusion of porcelain skin. And the people from Biotherm also have this useful version with SPF 25 protection included.
Summer Dresses

New season means new clothes so why not try this vintage inspired number from Necessary Evil?
Summer Hats (for her)

If you've no room in your life for a parasol, a big sun hat can be just as good. Now is a good time to buy one as well, with the vintage look very much en vogue the high street is full of options.
Summer Hats (for him)

When it comes to men's hats there are also plenty of options in the form of classics such as Trilbys, Panama hats, Stetsons, rifle caps and even this fetching Fedora to keep the sun off your face.
We hope this little list helps you cope with what little seasonally appropriate weather we do experience this Summer. Why not tell us what you'll be doing this Summer (weather permitting) over at the Dominion Magazine Facebook page HERE.